Guest Menu
Products
Brand Search
Product Search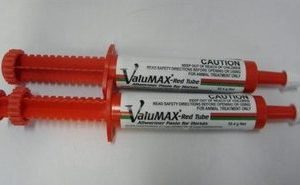 Valumax – Horse Wormer – Red Tube
Add to regular order list.

Valumax is highly effective against tapeworms and gastrointestinal, cutaneous and pulmonary nematodes and bots of horses of all ages.
Regular treatment will reduce the chances of verminous arteritis and colic caused by Strongylus vulgaris.
Mares may be treated at any stage of pregnancy. Stallions may be treated without advesly affecting their fertility.
| SKU | Description | Price | Quantity | |
| --- | --- | --- | --- | --- |
| VAL8711 | Valumax - Horse Wormer - Red Tube - 32.4g | Login to view prices | | |