Guest Menu
Products
Brand Search
Product Search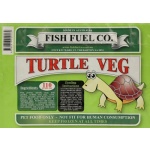 Fish Fuel – Turtle Veg
Add to regular order list.

mature omnivorous turtles such as the Macquarie Turtle or Murray Short Necked Turtle.
At Fish Fuel Co. we've specially formulated our Turtle Veg to provide a complete and balanced diet for mature omnivorous turtles. After many species of turtles have finished growing and have fully matured, they often start to include more plant material in their diet. In the wild, turtles feed on molluscs, bugs, small fish and crustaceans. Then as they mature they start to eat plant material that's readily available to them.
So we've selected premium quality leafy greens and other top quality vegetables, to add to our protein sources of premium fish, molluscs and crustaceans. It provides a truly balanced diet for mature turtles that keeps them happy and healthy.
We've also included a special multi-vitamin and minerals formula including essential fatty acids omega 3, 6, & 9 developed by leading animal nutrition company Wombaroo.
| SKU | Description | Price | Quantity | |
| --- | --- | --- | --- | --- |
| 17015 | Fish Fuel - Turtle Veg (Frozen) - 10 x 110gm | Login to view prices | | |