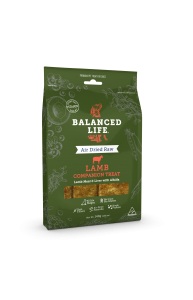 Balanced Life Air Dries Raw Kibble & Air Dried Raw
AIR DRIED RAW KIBBLE: Balanced Life enhanced is Australia's first grain free dog food with air dried raw meat pieces delivering a delicious, high-protein, complete and balanced diet.
AIR DRIED RAW : The Balanced Life range is a complete air-dried raw nutrition high in meat content sourced from Australian farms and mixed with the perfect balance of superfoods, nutrients and minerals to give everything healthy dogs and cats need. The food is grain and gluten-free and contain no nasty fillers like rice or corn.
---
This news item was published on February 22, 2019.
---