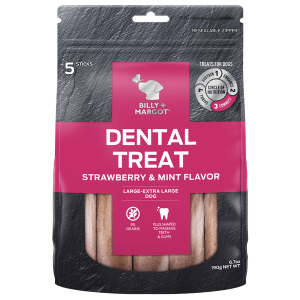 Billy + Margot Grain Free Dental Sticks
Available in – Apple & Green Tea & Strawberry & Mint.
Expertly designed to promote complete oral hygiene in your adult dog, these fun dental treats have a great fruity flavor and are plus-shaped to massage your dog's teeth and gums.
As well as helping clean and freshen your dog's mouth, these dental treats can also be used to reward good behavior and help you build a strong bond with your dog. The unique combination of apple and green tea gives these treats an enticing and unique taste that dogs love.
---
This news item was published on November 7, 2018.
---